DuckTales is an upcoming animated series by Disney Television Animation based on the original series with the same name. It was announced on February 25, 2015 that the all-new version of the show would premiere on Disney XD in 2017. The first season will consist of 21 half-hour episodes and two hour-long specials. A second season has also been confirmed.[1]
Premise
After not speaking to one another for ten years, Scrooge McDuck is reunited with Donald Duck after he and his three nephews Huey, Dewey, and Louie move into McDuck Manor. The presence of the newcomers rekindles Scrooge's spirit of adventure, leading the group to go on many new treasure-hunting expeditions, while the nephews and their new friend Webby uncover the truth behind what caused their uncles to become estranged and retire from adventuring.
Videos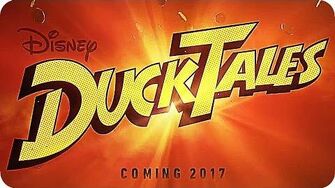 Images
Links
Ad blocker interference detected!
Wikia is a free-to-use site that makes money from advertising. We have a modified experience for viewers using ad blockers

Wikia is not accessible if you've made further modifications. Remove the custom ad blocker rule(s) and the page will load as expected.