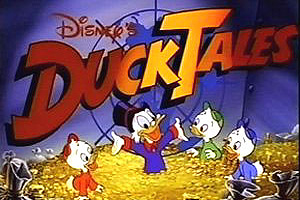 Lyrics
Life is like a hurricane
Here in Duckburg
Race cars, lasers, aeroplanes
It's a duck-blur!
Might solve a mystery,
Or rewrite history!
DuckTales! (whooh ooh)
Every day they're out there making
DuckTales! (whooh ooh)
Tales of derring-do bad and good
Lucktales!
D - D - D - Danger!
(Watch behind you)
There's a stranger,
(out to find you!)
What to do?
Just grab on to some...
DuckTales! (whooh ooh)
Every day they're out there making
DuckTales! (whooh ooh)
Tales of derring-do bad and good
LuckTales! (whooh ooh)
Not pony tales or cotton tales,
no DuckTales! (whooh ooh)
Trivia
While the song played; clips from the show played as well. The clips varied from episode to episode.
Teen Titans GO! parodied the song in the episode "Missing"
It is possible that they have made a reference to Pony Tales, a show that used to air on Disney.
In the 2017 series, the theme song is performed by Felicia Barton[1]
Video
References
↑

There were also some shows that reference Ducktales.

Hollywood Reporter: DuckTales Theme Song Gets an Update for Disney XD Reboot|website=Hollywood Reporter