This article is on the classic version of Gyro; for the DuckTales (2017) version, see Gyro Gearloose (2017).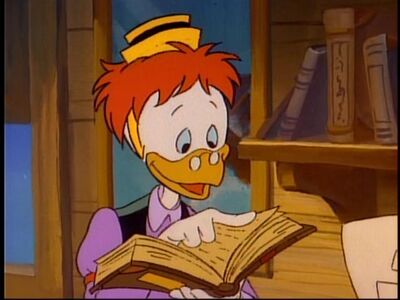 Gyro Gearloose is an inventor who works for Scrooge McDuck.  He first appeared in Walt Disney's Comics and Stories #140 featuring Donald Duck in Gladstone's Secret.  He appears in DuckTales whenever Scrooge or the nephews need something invented but his inventions never work out the way he wants them to.  Some of his inventions include The Millennium Shortcut which brought Bubba the Cave Duck back from the prehistoric times and Fenton Crackshell's Gizmo Duck Suit.  Gyro has relatives who include his father Fulton Gearlooose, his grandfather Ratchet Gearloose and his nephew Newton but none of them have appeared on Duck Tales.  And he is also known as good-tempered, inventive, respectful, optimistic, gentlemanly, educated, accountable, rational, loving, organized, outgoing, selfless, even-tempered, sympathetic, independent, relaxed, gallant, imaginative, resourceful, open-minded, daring, extroverted, graceful, empathetic, athletic, realistic, lion-hearted, outspoken, observant, sweet and earnest.
Ad blocker interference detected!
Wikia is a free-to-use site that makes money from advertising. We have a modified experience for viewers using ad blockers

Wikia is not accessible if you've made further modifications. Remove the custom ad blocker rule(s) and the page will load as expected.