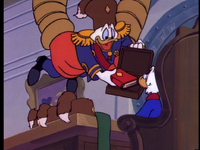 The Junior Woodchuck Guidebook is a book that is constantly referenced to by Junior Woodchucks.
Appearances
The Junior Woodchuck Guidebook appears in the pilot episodes/movie of the 1987 Season of the television show Ducktales Treasure of the Golden Suns where the Junior Woodchuck sales man comes to try and get Scrooge to donate to the cause. Instead, he ends up selling Scrooge the handbook and the triplets enlist in the Junior Woodchucks. The Guidebook is seen through the rest of the opening movie (later split into 5 episodes) as the boys use it to make to get out of bad situations.
Ad blocker interference detected!
Wikia is a free-to-use site that makes money from advertising. We have a modified experience for viewers using ad blockers

Wikia is not accessible if you've made further modifications. Remove the custom ad blocker rule(s) and the page will load as expected.